Personal Injury Law Marketing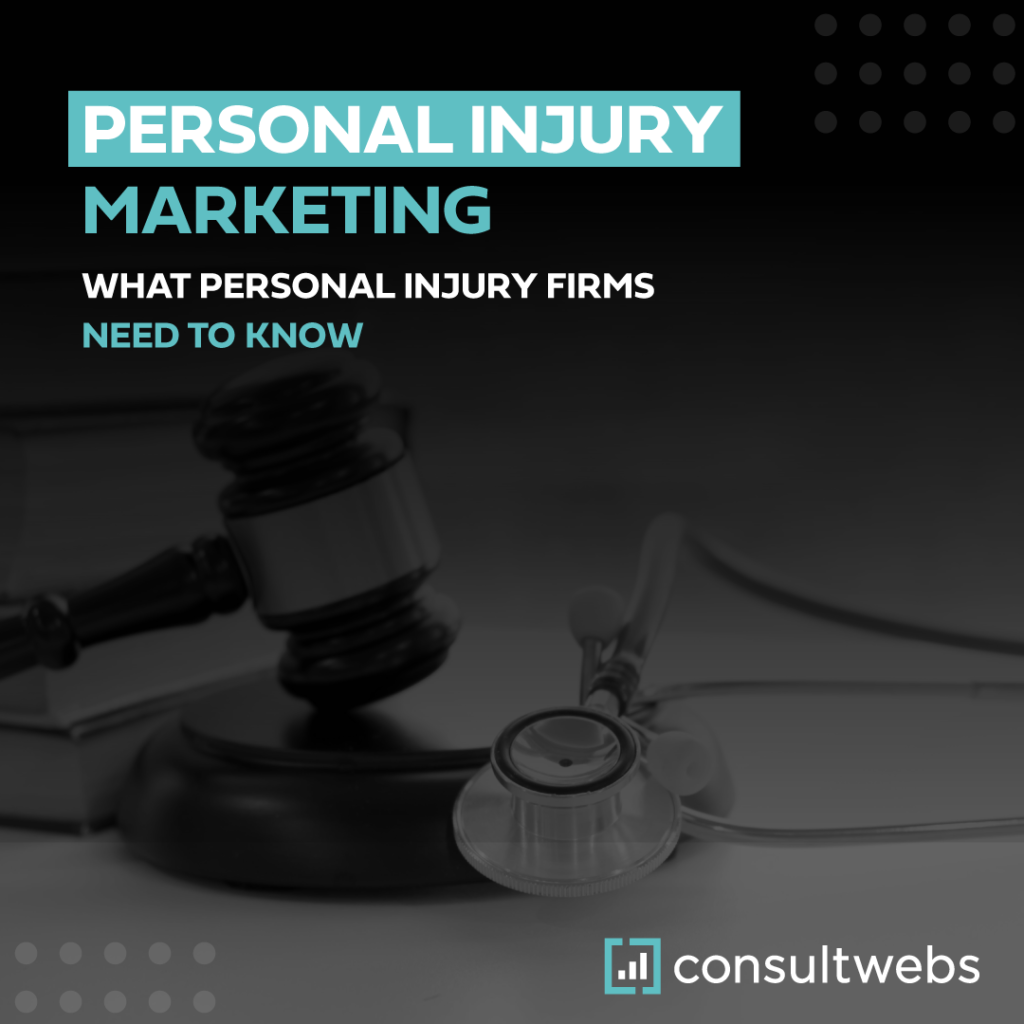 What is Personal Injury Marketing
Personal injury is among the most competitive areas within the legal industry. Whether there's a client that needs your services immediately or someone who needs to hire a personal injury attorney down the road, it is vital your firm comes to both your existing clients' and prospects' minds.
Lawyers cannot create a demand for their services, nevertheless, demand for personal injury law firms is on the rise. The people that do require legal representation and advice go through an extensive decision-making process before ultimately reaching out via call/email/text.
Although prospects seeking the help of a personal injury law firm need quick answers and solutions, they will likely still take their time to do in-depth research before deciding on hiring a specific personal injury firm. Clients choosing a firm do take their time and do their research before reaching out to a firm. In some cases, clients might speak to different firms before making up their minds.  What this means, specifically for personal injury law firms, is that your website and additional digital marketing should be built to catch prospects' attention and consequently convert them to calls and cases. Since the business of personal injury law firms is unique and functions on a contingency fee basis, it is important to outshine any possible competitors.
So, How do you market a personal injury attorney? At Consultwebs, we have a built-in marketing strategy, specifically focused on your law firm practice area. We use all avenues available to market your firm including Web design & development, Search Engine Optimization, Pay Per Click, Social Media, Email marketing, and more. With more than 20 years of experience, our company has been able to help personal injury lawyers with a thorough, results-driven marketing campaign.  At Consultwebs we know that there is no such thing as a one-size-fits-all approach. The Personal Injury marketing strategy for your firm is crafted to meet your specific needs.
Why is Personal Injury Law Marketing Different?
To stay in front of your clients' and prospects' wants and needs, your firm needs a plan of action. Acknowledging the unique requirements each personal injury firm has, means there are specific marketing actions you should take into consideration. Some of these marketing factors include:
Providing a sales funnel that caters to clients in the different stages of their customer journey.While some prospects are looking for options, others are ready to hire a personal injury lawyer right away. It's important your website and additional marketing efforts are geared towards representing your firm as a reliable and available one, no matter what that means for the stage they are in the sales funnel.
Verifying and updating your GMB (Google My Business). A GMB listing can help your firm's visibility on Google local SERPs. A GMB profile provides potential clients an overview of your location, services, hours of service, reviews, submitted questions and answers, policies, and more.
Having a robust content marketing plan. This means your personal injury firm will need to provide its clients high-quality, informative and original content on its website and any corresponding social media platforms. Not only does this allow your potential clients to find the answers they need, but it also positions you as an industry leader!
Optimizing the user experience. The user experience can make or break your firm. The majority of clients would quit business with a company if they have a bad experience. A way to ensure you don't experience the same drop in business because of this is ensuring your site is optimized to make a user's visit to your website as pleasant as possible. Some examples include having a mobile-friendly website, posting relevant FAQs and digestible content, multimedia, ensure ease of access for people with disabilities, and showcasing social proof such as testimonials.
Gathering Reviews. Tied to the previous bullet point, this is a form of social proof. Prospects are invariably influenced by the comments and reviews others leave online. With this in mind, you can imagine how important it is to gather and answer all reviews (whether they are negative or positive). This builds on your firm's overall credibility and sets your prospects' expectations on what kind of service they will receive if they choose your firm. Pro Tip: Users naturally navigate towards negative reviews. Resolving them and converting them into positive ones is often better than positive reviews that came through as such from the beginning
Branding your PODs (points of difference) and quality work is important. This is because personal injury is one of the most competitive practice areas. Besides availability, clients are interested in your firm's quality. Another way to think of these is as unique selling points, what makes your Personal Injury Firm better than other competing firms.
The Consultwebs' Approach to Personal Injury Law Marketing
Personal injury has a unique business model, and with this unique modus operandi come bountiful challenges. Let's dig a little deeper: PI firms sometimes end up paying hundreds of dollars per click with Google Ads, due to the sheer competition on the market. And this makes sense — potential clients are Googling attorneys that can help them with their accident and injury cases, and they want answers and solutions quickly. Just to put this into perspective, did you know that in the U.S. there are around 6 million annual car accidents and ca. 3 million injuries each year? And what happens to these people? They are most likely on Google, looking for legal representation. It's a tough industry to be in, but it is possible to win over your fair share of the pie.
At Consultwebs, we recognize the effects one factor has on another. We take this comprehensive marketing approach and tailor it to your firm's wants and needs, and we deliver results. We are not your average digital marketing team. Our team of digital marketing experts focuses entirely on the legal industry while providing a long-term growth strategy. You can expect to stand out amongst your competitors through our  specialized marketing approach that caters specifically to PI firms.:
Search Engine Optimization (SEO) can give you plenty of local and regional opportunities, and with these opportunities, a competitive edge. A sturdy SEO campaign can boost your rankings and your placement on the Google SERP.  To take full advantage of this, your firm's SEO campaign should be refined enough to cater to all the different users, ranging from users who are merely looking for information to users who are looking to take action and call. Investing in an SEO strategy means your personal law firm can take advantage of all of Google's ranking factors.
Our SEO specialists recognize that every personal injury firm requires elaborate and extensive research before even starting to plan out its customized marketing strategy. Our SEO specialists here at Consultwebs are equipped with all the technical skills and experience needed in order to create and optimize a multi-channel plan that fits your firm.
Pay-per-click, advertising (PPC) is extremely competitive in the PI industry. Deciding to invest in a PPC campaign without clear actions, goals, metrics, and budgeting can lead to losses quite quickly.
When implemented correctly, however, you can expect a higher return on investment due to the broader reach to potential clients and, as a result, increased business. PPC campaigns are highly targeted towards quality leads that are actually interested in calls and cases. This is a win-win situation both for your firm and the client.
Our team at Consultwebs takes full advantage of the paid channels your firm could market itself on, and we take pride in our proactive approach to PPC campaigns. Your ads are tailored based on your firm's specific needs and target audiences, based on elements such as geography, age, gender, interests, etc.  Ask us about our average cost per conversion, we are sure you will be pleasantly surprised. Don't want to take it from us? Check out our testimonials here.
If you think your prospects are only snooping around your website, you might be interested to know that they are also looking at your social media platforms. Potential clients want to know how responsive, available and friendly your firm is on platforms outside your website, and since the customer journey is long, it is important to recapture them throughout their journey. Users do not make instant decisions on one firm over another. The majority of consumers take time within the purchasing decision process. This means they look for outside content, such as your social media platforms.
Social media is one of the easiest ways your firm can establish an online presence. Your firm can take advantage by creating and/or sharing content, such as multi-media content, informative blog articles, behind-the-scenes stories, etc. For example, the majority of people are not aware of how personal injury law firms charge — this would be a fantastic topic to cover on your social media accounts and overall digital marketing! Your strategy could include the creation of a blog post, repurposed social posts on the topic, Instagram and Facebook stories that shed some further light on the pricing structure, possibly even a podcast episode! There are (close to) no limits in the world of social media!
We are aware that every firm requires a unique plan of action. However you can peruse other techniques our team has tested and successfully implemented for our existing clients and that may be beneficial for your firm, too! Our team would be more than happy to discuss details pertaining to paid ads, audience optimization, best practices, and other relevant fields with you, get in touch today!
As humans, we are visual beings. Scientifically, we understand information better and faster when there are visuals. This is why visuals like videos are proven to be the preferred content type. The majority of users find videos useful in their purchasing decision. It is clear that videos are a powerful tool to illustrate a firm's overall value. High-quality videos can help you bolster trust and engagement, and it also leads to measurable success.
Communicating your story through visuals is not only vital, it also requires expertise to get the job done just right. With an experienced team by your side, you can rest assured that your videos will communicate the unique aspects and personality of your firm. At Consultwebs, we are passionate about the intricacies of portraying law firms in the right light, and we take pride in the success we have seen in this effort. We could be your ally as well! We would be happy to go over the details of an in-depth video marketing campaign for your firm. Just reach out and we will get in touch asap!
Podcasts are oftentimes not highly considered or viewed as important when it comes to firms, but take this preconceived consideration with a grain of salt. Podcasts can help expand your firm's reach to clients you perhaps might have otherwise missed.
The reality is that the majority of lawyers do not see the value of podcasting. But this shouldn't stop your firm from making podcasts another differentiating factor between your firm and others! Never underestimate the power you can have if and when you establish your firm as the experts through podcasts, especially when the market is still as spacious as it is now. Remember, your competition's missed opportunity could just be the client of a lifetime for your firm!
To add to the benefits, podcasts can give your firm a stronger voice and personality. The more you can directly interact with prospects, the better your firm stands amongst the competition.
A beautiful website design can help your firm, but a website consists of so much more. A website is an extension of your firm, and it should be able to assist prospects and convert them into clients. Consider your website one of the main tools in your shed that you use to build a flourishing firm, and keep it so for years to come.
Being found online is the first step; the journey prospects take on your website is another story. Site usability is one of the many factors that helps your firm rank within Google and helps your prospects navigate around your site. And by the way, here's something huge to consider: most of your prospects are looking for a personal injury firm from their mobile devices, so your site must be ready for when someone discovers it on their phone. Without a mobile-friendly web design, you are more likely to miss these customers.
Overall, users want to know if you are available and if your firm is prepared to solve their issues.
At Consultwebs, we have learned to evolve along with technology and stay up-to-date with the current trends and digital requirements. This speaks to all of our strategies and all of the channels we implement, including web design.  We recognize the importance of customization on the path towards meeting your goals and would love to jump on a call to discuss your possible next steps. Go ahead and reach out to us to find out how we can help your firm optimize its website to ultimately get it to convert high-quality leads into paying clients.
Content Marketing for Personal Injury Lawyers
A content marketing plan focuses on quality over quantity. Quality content can bring your firm many benefits such as higher engagement rates, authority in your practice area(s), and overall trust and retention.
Content marketing is a long process, however, and it doesn't happen overnight. High-quality content takes time and expertise. At Consultwebs, we understand that investing in a content marketing plan means you are investing in high-quality, informative, and original content. We work to not only set you apart from the rest but also to set you up for success.
Why Consultwebs is the Best Choice for Marketing a Personal Injury Law Firm
We don't cut corners. Every law firm is unique, just as unique as each client is. The service we provide is customized so all of our attorney's and lawyers' specific needs are met.
Consultwebs understand what works (and what doesn't) for personal injury law firms. We want you to take advantage of every opportunity to grow your law firm practice both online and offline. Having a team that strategizes, creates, implements, and optimizes your digital marketing while aiming for your success lets you concentrate on your caseload.
Our team develops a comprehensive marketing strategy for your personal injury firm. It's ineffective to design a good-looking website and call it a day.  Personal injury law is a competitive practice area, so we coordinate and improve your firm's online presence to match your goals.
We measure success by your return on investment. Conversions and quality leads are the metrics we use to measure success.
Our customer service is unmatched. At the end of the day, we consider ourselves extensions of our client's firm and we take pride in the dedication our team pours into their campaigns. Our company believes a personalized approach means being by your side all the way. We believe in having a personal connection from regular updates to meetings, progress reports, etc. so you don't feel left out or alone at any point.
You own everything we do. When we said we personalize content for you, we mean everything is personalized for you and created for you. All the work we do from: your own domain name, web design, Google Analytics, content, creative assets, etc. is yours to keep. 
Proven Results…because you shouldn't only have to hear it from us!
"Our results on search rankings have gone through the roof, our cases and calls have increased, and our conversion has increased as well.
If you're on the fence about hiring Consultwebs, you need to get off the fence because you cannot afford not to have a company like Consultwebs in your corner."
Joel McClellan
Marks & Harrison
Scale Your Firm to Long-Term Success. Contact Us Now.
Rather than having your voice controlled… you can control the voice around your firm.
Don't miss out on opportunities to sign more clients. Get more quality-driven calls and cases. Partner with Consultwebs and discover how your personal injury marketing strategy can start paying for itself.
Contact us today for a FREE analysis of your current website and online marketing presence.