Personal Injury Law Marketing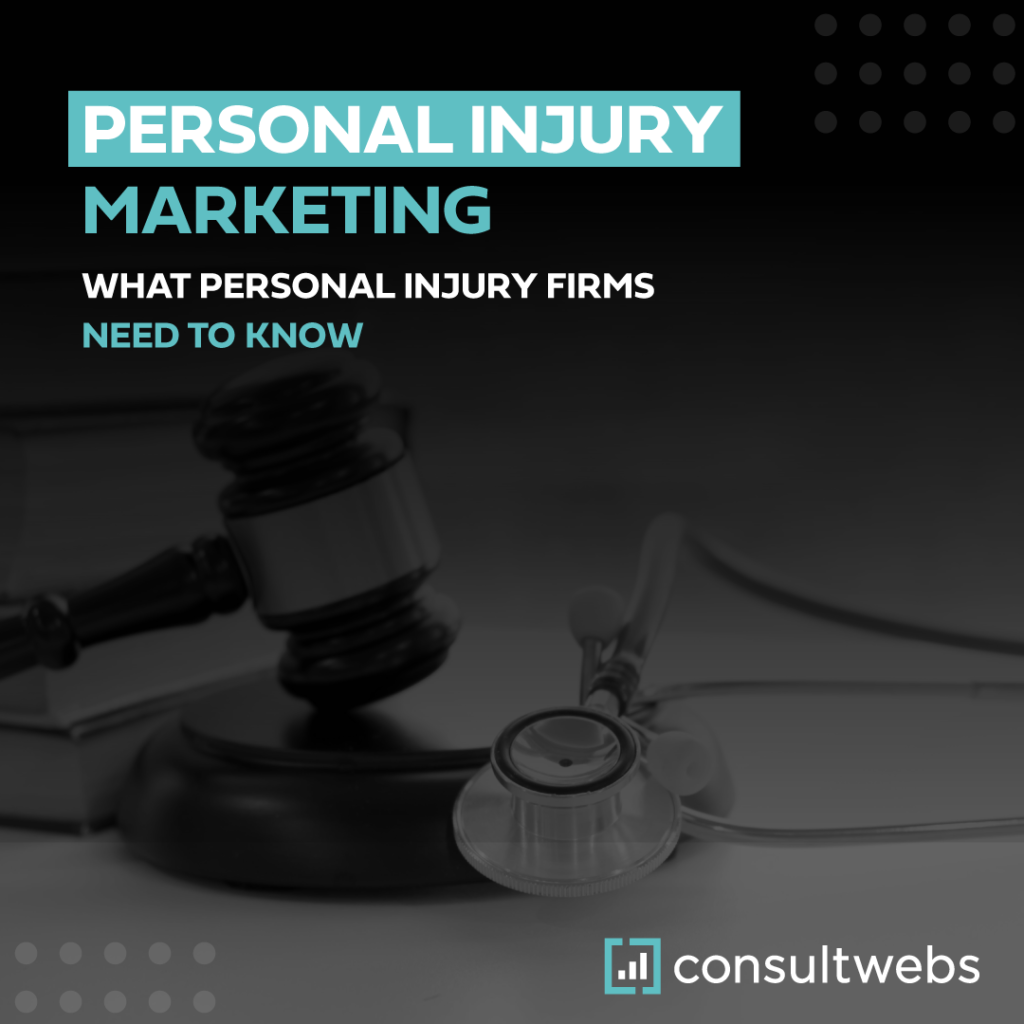 What is Personal Injury Marketing
Personal injury is among the most competitive areas within the legal industry. How competitive? Costs per click for the term "Personal Injury Lawyer" can range from 50U$ to 238U$ for a top-of-page bid. 
Whether there's a client that needs your services immediately, or later down the road, it is vital your firm comes to mind.
Lawyers cannot create demand for their services, yet the demand for personal injury lawyers has been increasing with the passing of time. People needing legal representation or advice, go through an extensive decision-making process, and this all takes place long before contacting your law office or your competitor's.
Prospects seeking a personal injury law firm need quick answers and solutions, however, as urgent their initial search for answers is, they will likely still take their time to do in-depth research before deciding on hiring a specific personal injury firm. In some cases, clients might even speak to different firms before making up their minds.  For personal injury marketing, your website and digital assets should catch prospects' attention to ultimately convert them into calls and cases.
Every personal injury case is unique and the plan of action to tackle each one will depend on many variables, including:
What's the injury? 

How did it happen? 

How long will it take for the injury to heal? 

Expenses that incur because of the injury. 

Was money lost because of the injury?

And more!  
It is important to outshine competitors by showcasing your knowledge and experience in matters that pertain to your practice area and meet clients where they are upon their first search.
So, how do you begin your personal injury advertising? At Consultwebs, we have a built-in marketing strategy, customized and toggled to meet your firm's specific needs and focused on your legal practice area. Your law firm is not like the rest, and your marketing strategy should be seen in the same light! 
We use all sources available to market your firm online and offline, as we know that a multichannel approach is now essential in 2022 to blow your competition out of the water. Adding to that the knowledge about how, when, and where your potential clients are looking for you could be what makes your marketing strategy go from effective to ridiculously successful.   
Legal Practice Areas Personal Injury Covers
There are different injury claims that fall under personal injury law, and the ideal marketing approach is different for each type of personal injury case your firm wants to target.
Here are a few of the primary practice areas that fall under personal injury:
Motor Vehicle Accident
Claims of incidents where a vehicle was involved are considered motor vehicle accidents. This includes bikes, electric cars, boats, trucks, semis, even planes.
Examples: car accident, truck accident, motorcycle accident
Medical Malpractice
Medical malpractice occurs when a patient is injured because of negligent medical care. A case can be made when mistakes are made during diagnosis, the application of anesthesia, surgery, and/or faulty drug prescriptions, and more.
Examples: dental medical malpractice, birth injury medical malpractice.
Workplace Accident
This claim surfaces when an individual or a group is hurt during employment. One of the most common cases is workers' compensation.
Catastrophic Accidents
Some accidents are so serious that the injuries sustained by the victim are disabling, which will have long-term, possibly permanent effects on the person's life.

Examples include traumatic brain injury, para/quadriplegia, spinal cord injury, etc. 
Premises Liability
In a premises liability claim case, the affected party typically seeks damage for an injury. What makes this a premises claim is a defendant's failure to maintain their property safe and hazard-free.
Here are some of the most common Premises Liability cases:
Slips and falls

Hotel Accidents

Parking Lot Accidents

Swimming pool Accidents

Negligent Security

Poisoning

Electrocution because of Faulty Wiring

Inadequate lighting

Much more.
Products Liability
We live in a safer world thanks to consumer protection laws. Product liability cases allow affected individuals (or conglomerates) to seek compensation. This can take place if the government standards and regulations of a product are not met.
Examples: Car airbag recalls, pharmaceutical drug recalls.
Wrongful Death
Wrongful death is a claim against a person, company, or LLC.   Any death caused by the negligence of another may result in a claim. Wrongful death can be part of any of the previous claims, assuming a fatality has occurred.
Personal Injury Standard Cost 
It's no secret that insurance companies will try to pay out as low as possible and cut corners to reduce costs. If a settlement sum cannot be agreed upon, then the next step is usually going into trial. A lawyer makes sure corners are not cut when it comes to your compensation. 
 So what is the standard fee for a personal injury lawyer?  Law firms usually use contingency fees as a method to collect. This fee usually sums up to one-third of the total amount of the settlement. Every case is different,  however, so every settlement amount differs. A contingency fee may also increase or decrease depending on your case and talks with the representing firm – but what happens if the case is lost? The plaintiff pays a contingency fee only if the lawyer manages to win the lawsuit or if a settlement with the insurance company is achieved.
Why is Personal Injury Law Marketing Different?
Acknowledging the unique traits of each personal injury case also means taking different marketing factors into account:
Prospects will be on different stages of the customer journey – in other words, not everyone will be ready to book a call, as some will be just beginning their market research. The different stages your prospects are in will also need to be accounted for in your strategy with different content types and approaches.



A GMB (Google My Business) listing can help your firm's visibility on Google local SERPs (Search Engine Results Pages) – especially when everything is kept updated.

GMB provides clients an overview of your location, services, service hours, reviews, questions and answers, and more

.



Your firm will need to provide clients with high-quality, informative, and original content through the ideation, development, and maintenance of a robust marketing plan.

Not only does this allow your potential clients to find the answers they need, but it also positions you as an industry leader

!



Your site's user experience can make or break your firm both online and offline. According to Sweor it "

takes 2.6 seconds for a user's eyes to land on the area of a website that most influences their first impression

".  The majority of clients would

quit

business with a company if they have a bad experience. No need to worry about this if you make sure your site is

mobile-friendly

, has: relevant FAQs posted,  provides digestible content with multimedia, ease of access for people with disabilities is ensured and social proof, such as testimonials, are showcased.



Tied to the previous point, the more testimonials you can gather, the better! Prospects are

invariably

influenced by the comments and reviews others leave online, both positive and negative.

Reviews build on your firm's

overall

credibility and set your prospects' expectations for your firm

.




Pro Tip: Users

naturally

navigate towards negative reviews.

Resolving them and converting them into positive ones is often

better

than

receiving another

positive review

.



What makes you different? Branding your PODs (points of difference) and quality work is important. Personal injury is one of the most competitive practice areas, after all, and the more proof and differentiators you can effectively communicate, the higher your chances are of signing quality cases. 
The Consultwebs' Approach to Personal Injury Marketing
Potential clients are Googling for attorneys that can help them with their claims, and they want solutions quickly. Just to put this into perspective, did you know that in the U.S. there are around 6 million annual car accidents and ca. 3 million injuries each year? And what happens to these people? They are most likely on Google, looking for legal representation. It's a tough industry to be in, but it is possible to win your fair share of the pie.
At Consultwebs, we recognize the effects one factor has on another. We take a comprehensive marketing approach and tailor it to your firm's wants and needs, and we deliver results. We are not your average digital marketing team. Our experts focus entirely on the legal industry, so you can expect to stand out amongst your competitors through our specialized marketing approach that caters to PI firms.:
Search Engine Optimization (SEO) can give you plenty of local and regional opportunities, as well as a competitive edge. A sturdy SEO campaign can boost your rankings and your placement on the Google SERP, which will only increase your chances of being found by the right prospects, at the right time.
To take full advantage of this, your personal injury SEO strategy should be refined enough to cater to all the different users, at all the different stages of the customer journey. Investing in an SEO strategy means your personal law firm can benefit from targeting clients through Google's ranking algorithm
Pay-per-click, advertising (PPC) is extremely competitive in the PI industry. To invest in personal injury advertising without clear actions, goals, metrics, and budgeting can lead to severe losses.
When implemented correctly, you can expect a higher return on investment due to the broader reach to potential clients, along with the highly targeted focus on quality leads that are actually interested in your service. This is a win-win situation both for your firm and the client!
Have any concerns? Check out our testimonials here.
Potential clients want to know how responsive, available and friendly your firm is on platforms outside your website. Since the customer journey is long, it is important to recapture them throughout their journey. Users do not make instant decisions on one firm over another. The majority of consumers take time throughout the purchasing decision process. This means they look for outside content, such as your social media platforms.
Social media is one of the easiest ways your firm can establish an online presence, and even foster relationships with prospects and clients alike! You can start by creating multimedia content, such as blog articles, stories, and more. An idea for the type of topics you could consider for your content pieces is, for example, how much personal injury firms charge for their services, what the intake process is like and what they can expect once they call in, or perhaps educational content on common terms that are discussed during attorney-client meetings. 
Scientifically, we understand information better and faster when there are visuals, which supports the argument that videos tend to be the preferred type of content people consume. Additionally, it has been found that the majority of users find videos useful in their purchasing decision! High-quality videos can help you bolster trust and engagement, and they can also lead to measurable success if the strategy for them has been thoroughly thought through.
Communicating your story through visuals is not only vital, it requires expertise to get the job done just right. With our experienced team by your side, you can rest assured that your videos will communicate the unique aspects and personality of your firm and convey the message YOU want out there. We are passionate about the intricacies of portraying law firms in the right light, and we take pride in the success we have seen in this effort.
Podcasts are oftentimes not highly considered or viewed as important when it comes to firms. Take this preconceived consideration with a grain of salt. Podcasts can help expand your firm's reach to clients you perhaps might have otherwise missed.
It's high time your firm makes podcasting another differentiating factor between you and your competitors! Never underestimate the power you can have when you establish your firm as an expert through podcasts. Remember, your competition's missed opportunity could just be the client of a lifetime for your firm!
To add to the benefits, podcasts can give your firm a stronger voice and personality. The more you can directly interact with prospects, the better your firm stands amongst the competition.
A beautiful website design can help your firm, but a website consists of so much more. It is an extension of your firm, and it should be able to assist prospects and convert them into clients. Consider your website one of the main tools in your shed that you use to build a flourishing firm, and keep it so for years to come.
Being found online is the first step; the journey prospects take on your website is another story. Site usability is one of the many factors that helps your firm rank within Google and helps your prospects navigate around your site. 
A content marketing plan focuses on quality over quantity. Content can bring higher engagement rates, authority in your practice area(s), overall trust, and retention.
Content marketing is a long process – high-quality content takes time and expertise.  We work to not only set you apart from the rest but also to set you up for success.
Why Consultwebs is the Best Choice for Marketing a Personal Injury Law Firm
We don't cut corners. Every law firm is unique,

just

as unique as each client is. The service we provide

is customized

so

all of

our attorneys' and lawyers' specific needs

are met

.

Consultwebs understands what works (and what doesn't) for personal injury law firms.

We want you to take advantage of every opportunity to grow your law firm practice – both online and offline

.

Our team develops a comprehensive marketing strategy for your personal injury firm. It's ineffective to design a good-looking website and call it a day.

Personal injury law is a fiercely competitive practice area, so we coordinate and improve your firm's online presence to match your goals

.

We measure success by your return on investment. Conversions and quality leads are the metrics we use to measure success.

Our customer service

is unmatched

.

At the end of the day,

we consider

ourselves extensions of our client's firm and we take pride in the dedication our team pours into their campaigns

. Our company believes a personalized approach means being by your side all the way.

We believe

in having a personal connection from regular updates to meetings, progress reports, etc. so you don't feel left out or alone at any point

.

You own everything we do.

When we say we personalize content for you, we mean

everything

is personalized

for you and created for you

.

All the work we do from: your own domain name, web design, Google Analytics, content, creative assets, etc. is

yours to keep

.
Proven Results…because you shouldn't only have to hear it from us!
"Our results on search rankings have gone through the roof, our cases and calls have increased, and our conversion has increased as well.
If you're on the fence about hiring Consultwebs, you need to get off the fence because you cannot afford not to have a company like Consultwebs in your corner."
Joel McClellan
Marks & Harrison
Scale Your Firm to Long-Term Success. Contact Us Now.
Rather than having your voice controlled… you can control the voice around your firm.
Don't miss out on opportunities to sign more clients. Get more quality-driven calls and cases. Partner with Consultwebs and discover how your personal injury marketing strategy can start paying for itself.
Contact us today for a FREE analysis of your current website and online marketing presence.