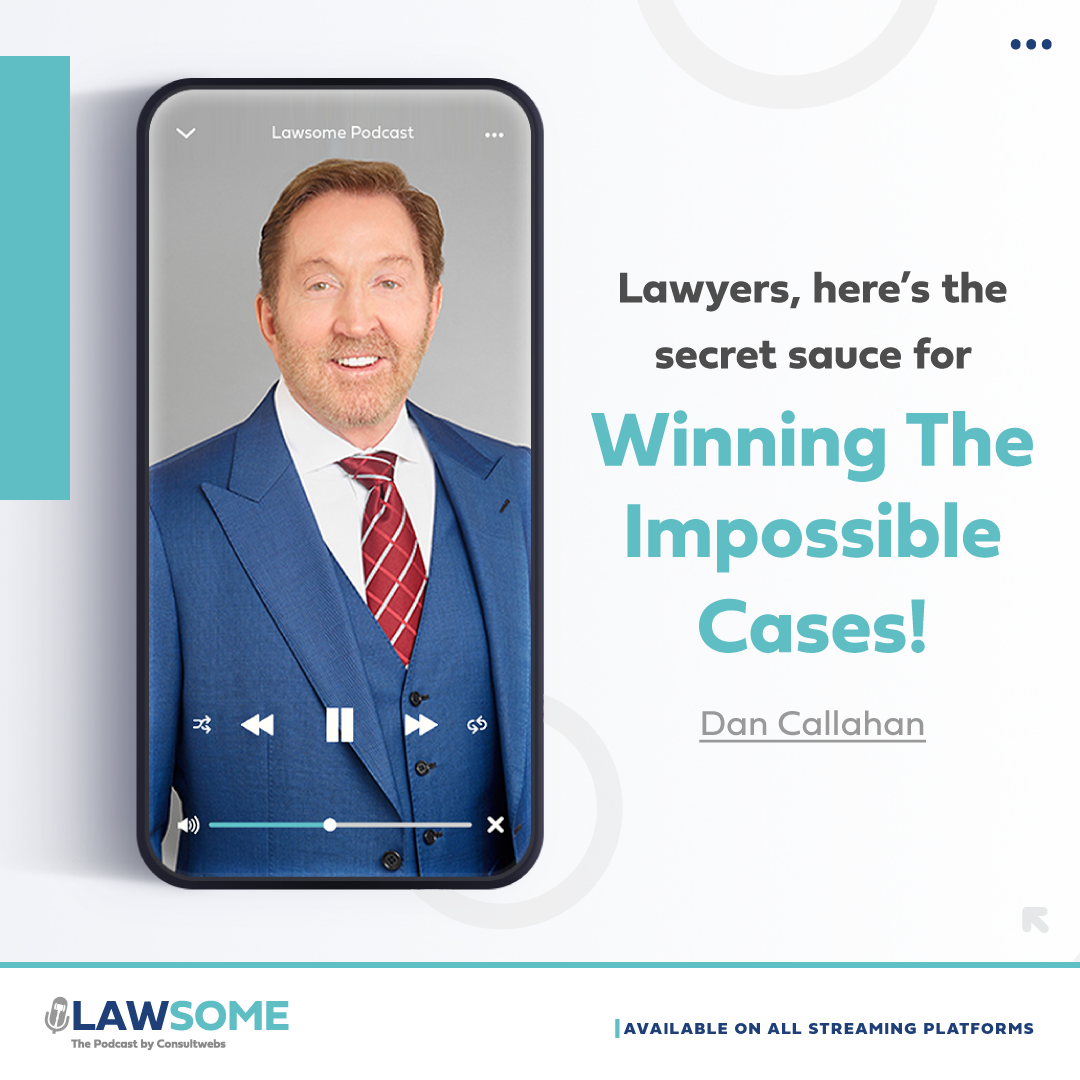 Tanner Jones, your host and Vice President of Business Development at Consultwebs, welcomes you to another episode of the LAWsome Podcast by Consultwebs.
In today's episode, Tanner is accompanied by Dan Callahan, former president and managing partner at Callahan & Blaine – a 28 attorney litigation firm based in Santa Ana, California. Dan is also the owner of Callahan Consulting Group. Here he provides consulting services to California-based law firms about litigation and trial strategies. 
Together, they sit down to discuss the secret behind winning even the most 'impossible' cases. 
Key Takeaways:
[0:20] Introduction 
[1:01] The world of litigation.
[2:04] The best mentorship advice for attorneys.
[4:40] The 'facing Goliath' concept in law. 
[9:29] Dealing with transformational moments. 
[11:43] How attorneys can better prepare when handling cases.
[13:40] The "lockdown" mode.
[14:44] Leveraging video in a firm's marketing strategy. 
[17:42] The creative impact marketing has on firms. 
[18:31] The 3 characteristics of the 'strong players' in law.
[20:47] Thinking outside the box.  
[24:18] Contact information.
Best way to contact Dan Callahan: 
888 – 570 – 0000
dan@callahanconsulting.com 
Discover More About the Podcast and Consultwebs:
Subscribe to the LAWsome Podcast by Consultwebs on Apple Podcasts, Google Podcasts, and Spotify
Visit the LAWsome website
Follow Consultwebs on social for legal marketing updates:
Learn more about Consultwebs at the links below.
Law Firm Marketing Agency Services 
Consultwebs
8601 Six Forks Rd #400, Raleigh, NC 27615
(800) 872-6590
https://www.google.com/maps?cid=13646648339910389351
Tweetables and Quotes: 
"How can you accomplish the objective for your clients? Creativity is the best way to do it." @consultwebs
"Being in trial is like being a showman and you can be a showman when you're prepared." @consultwebs
"I also mentor other lawyers [outside the office] by doing seminars and the best advice that I can give is: preparation. I keep stressing preparation. You have to do everything to the best of your ability. Also you need to be creative – you have to think outside of the box." @consultwebs 
"The biggest change in my life: changing to learn how to prepare. Fully and totally prepared, and be willing to do whatever it takes. Don't put off until tomorrow what you can do today because tomorrow some other thing may come up and now you don't have the time to do the full best job you can."  @consultwebs
"If you're not preparing to win, you're preparing to fail."  @consultwebs
""Get out, don't just stay in your office. If there's an event in your local community, get out there, meet people, pass out cards. You have to be a good lawyer to win a case but you gotta get the case before you can win it so you gotta get out there and let your name be known." @consultwebs
"A really good lawyer is somebody that is prepared, communicates well with the client, has originality in thought and is prepared to do whatever it takes to win." @consultwebs 
Want more tips and tricks? Follow us on socials:
Facebook: https://www.facebook.com/consultwebs/
Instagram: https://www.instagram.com/consultwebs/
Twitter: https://twitter.com/Consultwebs