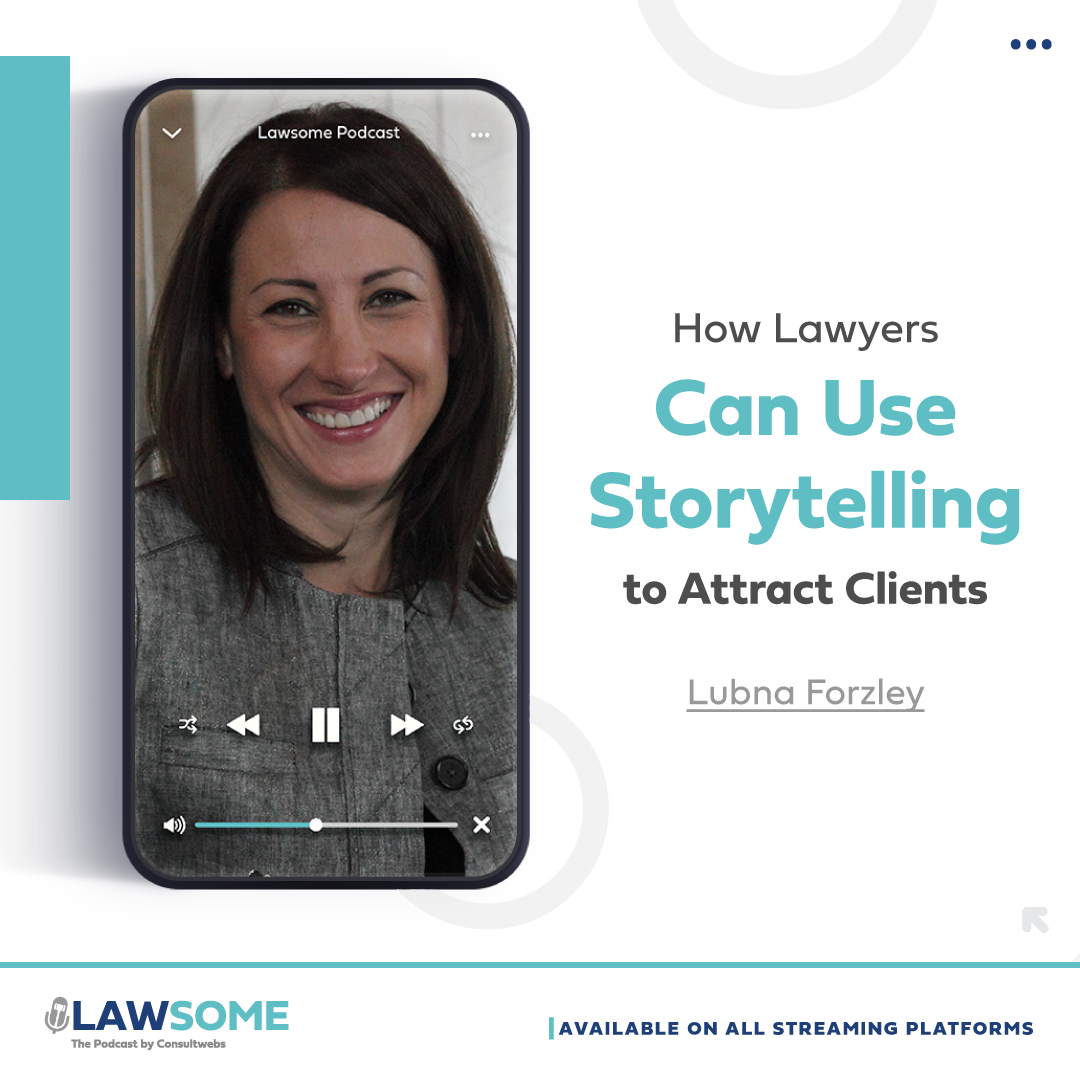 Tanner Jones, your host and Vice President of Business Development at Consultwebs, welcomes you to another episode of the LAWsome Podcast by Consultwebs.
In today's episode, Tanner is accompanied by Lubna Forzley, managing director of Stories, a consulting firm that helps companies and leaders create stories worth sharing. She has coached thousands of professionals on how to find and articulate their purpose. She's a speaker, a writer, and a moderator on various business topics. In addition, she has her own TedTalk called, "Disrupt with Purpose and Create a Story Worth Sharing."
Key Takeaways:
00:15 Introduction 
01:18 What's storytelling?
01:39 The main reason attorneys need storytelling.
02:20 How attorneys can develop their storytelling skills. 
04:19 The storytelling process. 
06:42 Advantages of using the storytelling process. 
09:19 Best practices to create an impactful story.
11:34 How lawyers can connect with their audience through emotions.
15:15 Fear of loss versus opportunity to win in storytelling.
18:20 How lawyers can share their narratives.
21:24 Are attorneys using storytelling incorrectly? 
23:23 Ending thoughts.
Best way to contact Lubna Forzley: 
Discover More About the Podcast and Consultwebs:
Subscribe to the LAWsome Podcast by Consultwebs on Apple Podcasts, Google Podcasts, and Spotify
Visit the LAWsome website
Follow Consultwebs on social for legal marketing updates:
Learn more about Consultwebs at the links below.
Law Firm Marketing Agency Services 
Consultwebs
8601 Six Forks Rd #400, Raleigh, NC 27615
(800) 872-6590