Social Media for Lawyers
Social Media for Law Firms Is Different…
To be a successful business, your law firm's main marketing goal, is to connect with clients. That means driving more business through your door from the Internet. Doing so requires a detailed skillset.
Many seminars, webinars, and conferences focus on marketing through social media. Unfortunately, unless the events deal specifically with the legal industry, the information you obtain will be largely irrelevant, sometimes even harmful to your goals.
For example, direct messaging on certain social media platforms, such as Twitter, is a common recommendation for building a social brand. However, in most jurisdictions, solicitation is against state bar rules.
Choosing a digital marketing partner that has extensive experience delivering success for law firms is essential. Mistakes are too easily made if you aren't familiar with the legal industry and its advertising trends and rules. And mistakes can cost you big money.
Why social media is so important to law firms
Law firms that serve the general public have tons of experience in serving and supporting people during times of crisis. Because of the type of law they practice, they know how to be compassionate and encourage people in difficult times. They do this in person, with their clients on an ongoing basis, but social media provides a platform where they can serve and support their communities and increase awareness of the firm at the same time.
By sharing and commenting on relevant news stories, promoting various causes in which your firm is involved, and being a part of the conversation, you can develop top-of-mind awareness among groups of people with whom you want to connect. They may not have a reason to need your services at present, but by nurturing a relationship with them, they may reach out to you in the future.
Social media is also a huge source of news for the American public. In turn, having a presence for your law firm on various platforms can garner more exposure.
How do social media sites stack up on news? When you take into account the total reach of a site (the share of Americans who use it) and the proportion of users who get news on the site, Facebook is the obvious news powerhouse. According to the Pew Research Center, roughly two-thirds (64%) of U.S. adults use the site and half of those users get news there, amounting to approximately 30% of the general population.
YouTube is one of the biggest social news pathways — about half of Americans use the site, and one-fifth of them get news there. This translates to 10% of the adult population and puts the site in the same category of relevance as Twitter.
Twitter reaches 20% of Americans. Half of those users say they get news there or 8% of Americans. Although only 3% of the U.S. population uses Reddit, for those that do, getting news there is a major draw – 62% of users have gotten news from the site.
Why should your law firm be on social media?
Marketing your law firm via social media is not a new idea, and it remains one of the easiest ways to establish an online presence.
According to the American Bar Association 2020 Websites and Marketing Survey, lawyers are overwhelmingly on social media but see varying results of success in regards to generating business.
In our own research and interviews with lawyers that use social media marketing to great effect, we've discovered a theme of pairing content with a way to track and measure effectiveness across a campaign, while appreciating the nuances of social media as a community-building platform.
The Basics of Social Media Marketing For lawyers
The majority of mistakes that law firms make with social media are easily avoidable. Don't write off the small stuff! Mastering simple things can save time and make room for more advanced initiatives. The list of available social media platforms grows daily; popular sites include,
Instagram
Facebook
YouTube
Twitter
LinkedIn
Snapchat
Quora
Reddit
As far as which social media platform is the most popular, the stats change just as much as the latest trends. According to one informal poll of lawyers, Instagram was noted as the most popular, with Facebook close behind.
Best practices for social media suggest that the following items are essential:
Safeguard your profiles with secure passwords. Ensure that all admins on your social accounts are using LastPass or a password manager.
Most social media profile pages have adequate security measures in place but double-check security protocols. Unwanted access to your profiles can lead to trouble.
Utilize Paid Options on Facebook
There are several ways to participate in Facebook's paid options (boosted posts, dark posts, traffic, and conversion ads). Test various methods to determine which are the most effective and efficient for your firm. These services promote your brand and can increase leads.
Be sure to officially verify your social media business pages. Verified pages receive numerous benefits on each platform (increased visibility in search, early access to new features, etc.)
Sprinkle personalized content (birthdays, work anniversaries, charity events, local events, etc.) in with your promotional material.
Have Professional Profiles
Ensure your social profiles feature branding consistent with your firm's website, collateral, and other materials, and that they have a clean, professional appearance.
Become Easy to Connect With
Make sure to set up Facebook "click-to-contact / call" buttons. Our research shows the increased use of these buttons as clients pivot to mobile phone use.
Recommended Social Media Image Sizes
In the tables below, you will be able to find our recommended image sizes for the top social media platforms like Facebook, Instagram, Linkedin, and Twitter. We include all the relevant image sizes you will need for your social media for image items like: profile picures, covers, banners, thumbnails, and more.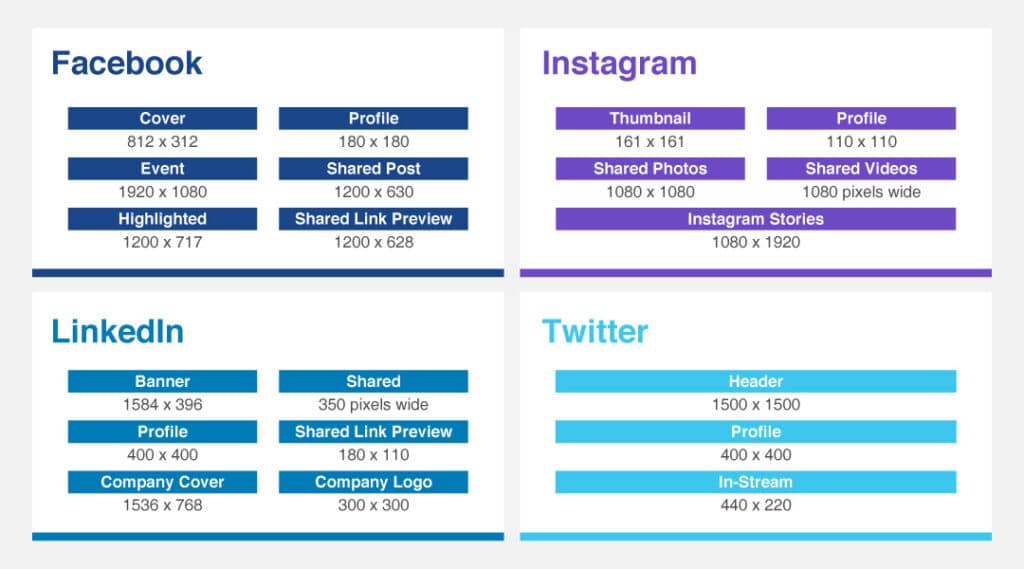 Best Times to Post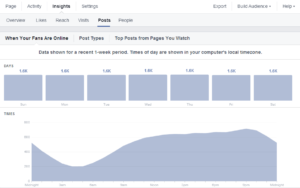 This can vary depending on how active your page is. You can see times when most of your followers are online here: Facebook> business page > Insights tab > Posts > "when your fans are online"
Another way to research the best times to post on social media is to look in Google Analytics and see when your website is getting the most visits, and post at these times.
Minimum Amount of Social Media Activity for Law Firms
You want to post at least twice per week, preferably on weekdays. Typically, Sundays are the worst in terms of reach and interaction but look at your Google Analytics to make sure.
Maximum Amount of Social Media Activity for Law Firms
A rule of thumb is to post no more than three times per day on your social media channels, and no more than 20 times per day on Twitter. Keep posts relevant and unique. Don't spam or post the same thing more than once on the same day.
Facebook / LinkedIn / Instagram – try posting in the morning, afternoon, and early evening, such as 10 a.m., 4 p.m., and 7 p.m.
Twitter – try posting throughout the day at 30-minute to one-hour intervals.
Ideas for Law Firm Social Media Marketing
Run a Quarterly Giveaway
For example, at the beginning of each quarter, host a giveaway where one of your followers will win a $100 (or more) gift card. Treat it like follower appreciation.
Be very vocal about such initiatives. Write a post detailing the giveaway and boost it to people who DO NOT follow your page. Sit back and watch the followers roll in.
A giveaway such as this will bring new followers in. You will notice that giving people a chance to win something each quarter will keep them interested in your page. Followers engaged in your page can easily become clients should they ever experience the need for a lawyer.
Invite Your Facebook Friends to "Like" Your Law Firm's Page
Invite your Facebook friends to "like" your law firm's page. It's quick and easy! Who is more likely to follow your firm than your personal friends? And every like counts when working your way towards a large following. Social proof matters. People are more likely to follow a page with 200 followers than they are one with 20.
Take Photos
Posting a lot of photos shows a more personal side of the firm. Take photos of the sunrise or sunset, events around the o ce, or in the community.
Showcase Employees Often
Recognize your employees for good work, publications, birthdays, work anniversaries, etc. This shows your followers that they are interacting with people, not just a billboard.
Promote Local Affiliations
If your law firm is affiliated with local businesses, let people know. Tag businesses in your posts, give them a shout-out or simply tell them to stop by your favorite Mexican restaurant for #TacoTuesday.
Don't be afraid to show the lighter side of your firm. If it fits with your current branding, feel free to show the lighter side of your firm. Some posts can just be for entertainment value. After all, most people use Facebook for entertainment.
Promote Charity Affiliations
Promote charities that your firm believes in and supports. There are some negative stereotypes surrounding the legal profession, but you can mitigate those by showing people you give back to your community and support worthy causes.
Pay Attention to Trending Topics
Create content that pertains to trending topics. This can garner an increase in visibility and interaction!
How can I measure ROI for my law firm's social media?
Although it's easier to just determine whether your firm is turning a profit, it is important to put the work into figuring out which marketing dollars are contributing to that profit (and if money is being wasted on certain campaigns).
Start by separating your marketing campaigns by medium: television, online, social media, etc. And track results from your various online marketing efforts, using something like this ROI Calculator.
For example, you may be allocating a certain portion of your budget to offline efforts or pay-per-click or specific social media campaigns. When you can manage and analyze these individual campaigns to determine whether they are producing quality leads, then you can adjust investments and better allocate spend.
Some of the tools we use to track leads include:
Call-tracking software that ties unique phone numbers to specific marketing campaigns
Google Analytics UTM parameters in URLs that identify which campaigns are driving traffic
Live chat services in which leads can be tied back to individual online campaigns
Specially designed and marketed webpages with unique contact forms for tracking submissions
Special content that requires a prospective client's contact information in order to download (think ebooks, calculators, etc.)
Audience behavior analysis software (helps reach potential clients)
Do's & Don'ts Social Media For Lawyers
While there always seems to be so much change in social media, there are certain practices that remain "standard," because of their applicability to marketing in general.
While it's true that social media brings traffic, the days of riding organic engagement through posting alone, with no engagement strategy, have long gone. Like, comment, build relationships, and tag other businesses or profiles within your practice area, on social media.
Use your social media to be social and influence your audience. Find articles and content that inspires you to be a better law firm marketer, tag the authors, and build your network through links.
While it's nice to build networks, it's also good to put it to use and drive business. Be sure to incorporate straight-selling ads along with your engaging content. Make no mistake, social media marketing for lawyers isn't just a nice to have, it can become a serious generator of cases, if you remember to sell every once in a while.
Along with the Do's, there are also social media practices that are best to avoid, or at least be aware of their potential consequences.
Below are some things that we suggest you never do, with regards to your firm's social media marketing campaign.
Spamming promotional content can cause you to lose your audience. No one likes a spammer!
Be responsive to comments or direct messages, especially on Facebook. Responsive Facebook pages can reap additional benefits, starting with the "Very Responsive" badge displayed on your profile. As a side note, be aware of negative feedback and address "trolls" appropriately.
Never Use Copyrighted Material:
Posting memes and YouTube videos to your business pages may be fun. Just make sure you own all material contained in your posts!
Never Neglect Your Profiles:
Never let a social profile go dormant. Post consistent updates! Profiles that are updated regularly benefit from increased visibility and interaction.
In Conclusion
Social media isn't just a communication platform, it can be an important part of an effective legal marketing strategy.
Regardless of firm size or budget, the basics for an effective social media strategy for your law firm must include great content, long and short-term marketing goals you can measure, and a plan to cultivate relationships with audiences on platforms that are more likely to turn connections into cases.