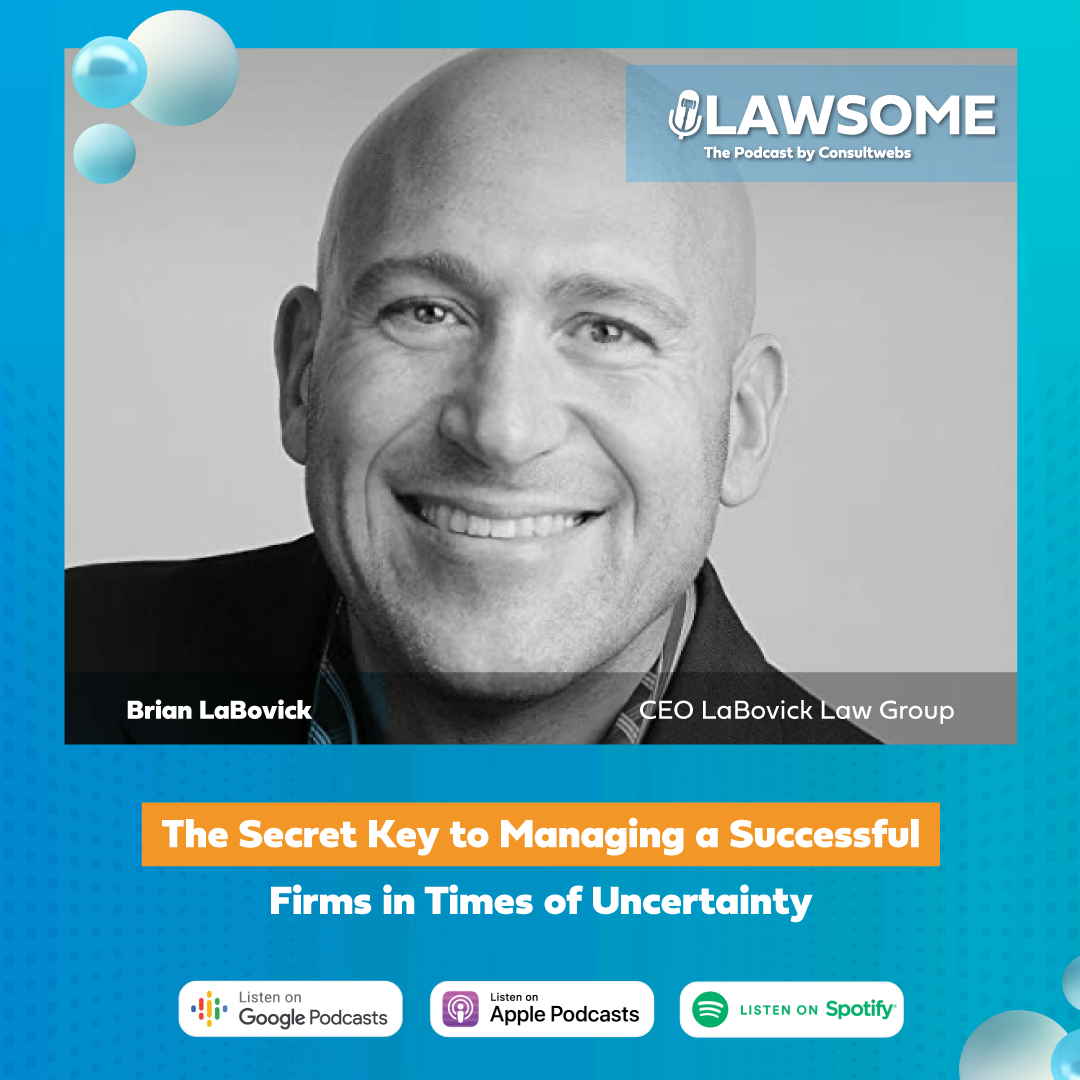 Tanner Jones, your host and Vice President of Business Development at Consultwebs, welcomes you to another episode of the LAWsome Podcast by Consultwebs.
In today's episode, Tanner is accompanied by Brian LaBovick, CEO of the LaBovick Law Group, a personal injury firm located in Florida. 
Key Takeaways:
[0:19] Introduction 
[1:55] What is the biggest lesson Brian's learned from running his firm during a pandemic?
[3:58] Other lessons learned during the pandemic. 
[6:14] Tips to get started with a growth-mindset. 
[8:18] What's brand clarity? 
[11:22] What was the process towards becoming a 'justice warrior'? 
[15:55] Pitfalls to avoid when picking your firm's core values.
[18:25] Benefits of having a clear vision.
[22:52] What's one thing Brian would have done differently? 
[24:50] What advice would Brian offer to our listeners? 
[27: 25] What are LaBovick's core values? 
[32:32] How can other firms get their core values in place? 
[36:30] What question would Brian ask himself? 
[38:09] Ending thoughts.
Best way to contact Brian LaBovick: 
brian@labovick.com 
brian@brianlabovick.com
labovick@yahoo.com 
Discover More About the Podcast and Consultwebs:
Subscribe to the LAWsome Podcast by Consultwebs on Apple Podcasts, Google Podcasts, and Spotify
Visit the LAWsome website
Follow Consultwebs on social for legal marketing updates:
Learn more about Consultwebs at the links below.
Law Firm Marketing Agency Services 
Consultwebs
8601 Six Forks Rd #400, Raleigh, NC 27615
(800) 872-6590
https://www.google.com/maps?cid=13646648339910389351