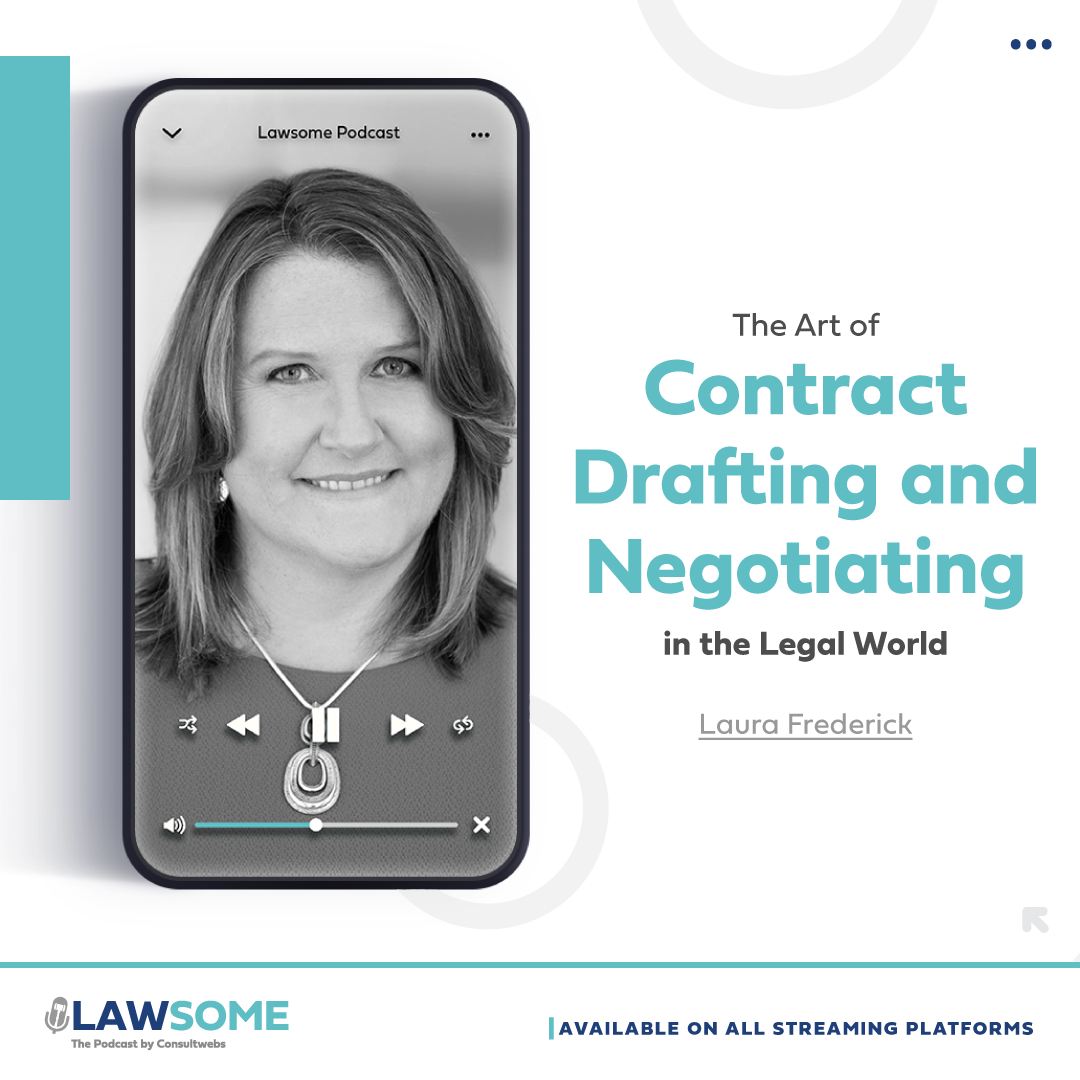 Tanner Jones, your host and Vice President of Business Development at Consultwebs, welcomes you to another episode of the LAWsome Podcast by Consultwebs.
In today's episode, Tanner is accompanied by Laura Frederick, founder and president of How to Contract, a platform that helps professionals master their contract drafting and negotiation skills. She's also a managing attorney at Laura Frederick Law, a boutique law firm based in Austin, Texas. She brings 26 years of experience as a practicing attorney across the globe, from San Francisco to Singapore. 
Key Takeaways:
[0:18] Introduction 
[1:04] Why lawyers need a specialized contractor 
[2:13] Key advantages when hiring external vendor contractors 
[4:14] Challenges firms face when contract drafting 
[6:08] Advice for lawyers doing contract draftings 
[8:07] Tips for lawyers learning the skill of contract drafting 
[10:40] Myths in legal negotiation 
[13:07] Tips to market your skills in social channels 
[18:33] Advice for lawyers looking to leverage LinkedIn business 
[20:15] Ending thoughts 
Best way to contact Laura Frederick: 
https://www.linkedin.com/in/laurafredericklaw/ 
https://www.howtocontract.com/ 
Discover More About the Podcast and Consultwebs:
Subscribe to the LAWsome Podcast by Consultwebs on Apple Podcasts, Google Podcasts, and Spotify
Visit the LAWsome website
Follow Consultwebs on social for legal marketing updates:
Learn more about Consultwebs at the links below.
Law Firm Marketing Agency Services 
Consultwebs
8601 Six Forks Rd #400, Raleigh, NC 27615
(800) 872-6590
https://www.google.com/maps?cid=13646648339910389351
Want more tips and tricks? Follow us on socials:
Facebook: https://www.facebook.com/consultwebs/
Instagram: https://www.instagram.com/consultwebs/
Twitter: https://twitter.com/Consultwebs
Check the Podcasts at: