Case Studies
Tap To Call
Our law firm clients trust our team to develop creative, competitive, and
cost-conscious marketing strategies that deliver measurable results. In
these case studies, we give you an inside look at how we have helped
some great law firms achieve success in their marketing campaigns and
surpass their goals for return on investment.
Client:
Salvi, Schostok & Pritchard P.C.
|
Campaign:
Ongoing Web Marketing
From no rankings to 300 leads per month, plus a record-setting settlement
Before partnering with Consultwebs in 2007, Salvi, Schostok & Pritchard P.C. had no real Internet strategy. Now the firm is well positioned to attract and convert clients from the web. This study looks at one particular case, which originated from a web search, in which the firm obtained a record-setting settlement and prompted changes to a hospital's safety protocols.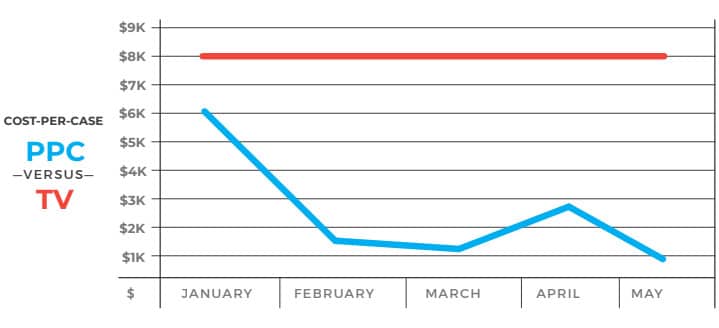 Client:
Former heavy TV advertiser
|
Campaign:
Pay-Per-Click
Moving budget from TV to PPC brings efficiency, outstanding results
The management team at this law firm was spending heavily on TV advertising and wanted to explore the potential of a Pay-Per-Click (PPC) campaign as an alternative for a portion of their marketing budget. Consultwebs helped the firm develop an impressive campaign to achieve their goals.
Client:
Pay-Per-Click Client
|
Campaign:
Pay-Per-Click
Pay-Per-Click campaign yields significantly more leads while firm spends less
This law firm was running a Pay-Per-Click campaign through Google but was not getting great results. After Consultwebs began managing the campaign, and made some drastic changes, we lowered the client's cost, increased conversions, and signed quality cases.
Client:
Charles R. Ullman & Associates
|
Campaign:
Fraternities4Family
Community-based campaign sets law firm apart, strengthens brand
This creative campaign brought together several organizations, raised funds for philanthropic efforts, increased the firm's visibility in myriad ways, and helped to build and strengthen the firm's brand.