Case Studies
Tap To Call
Our law firm clients trust our team to develop creative, competitive, and
cost-conscious marketing strategies that deliver measurable results. In
these case studies, we give you an inside look at how we have helped
some great law firms achieve success in their marketing campaigns and
surpass their goals for return on investment.
Client:
All Clients
|
Campaign:
Search Engine Optimizations
SEO ROI by Market Size
All firms investing in marketing with Consultwebs have seen an increase in their ROI. You'll see the proof in the following Case study.
Client:
Pilmma
|
Campaign:
SEO
The Long Term Benefits of Diversifying
Consumers today are more open — and even accustomed — to change. That means they are also more willing to explore new services, switch services, or research different companies before making decisions.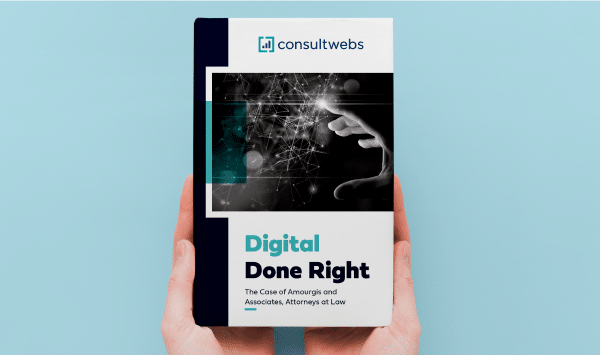 Client:
Amourgis & Associates
|
Campaign:
Search Engine Optimizations & LSA's
Digital Done Right The Case of Amourgis and Associates, Attorneys at Law
We'll cover the case of a bankruptcy and personal injury firm. How are firms determining what's best for them? We will show you the numbers!
Client:
Consultwebs Clients
|
Campaign:
Search Engine Optimizations
The Case of an Estate Litigation Firm Working With Consultwebs
Most people go through life without making an estate plan. Often, It isn't until they begin to age or their circumstances change that they realize that having an estate plan is essential.
Currently, only 33% of Americans have an established estate plan. that means that the majority, 67%, are leaving their assets, in the hands of the state.
Client:
Wocl Leydon, LLC
|
Campaign:
Email Campaign
Email Marketing Case Study
Wocl Leydon, LLC took care of email campaigns internally, but it wasn't moving the needle — leading to consistently low open rates (OR) and click-through-rates (CTR).
Client:
Geiger Legal Group
|
Campaign:
Search Engine Optimizations
Reaping the Rewards of Going Digital
Geiger Legal Group is a personal injury firm based in Cherokee County, GA. They're dedicated to providing high-quality personalized legal services. In 2021-2022, Geiger Legal Group continues to outrank competitors for multiple keywords.
Client:
SEO Client
|
Campaign:
SEO
SEO Case Study 236% Increase Within 12 Months
Consultwebs clients have consistently seen decreases in costs per lead and, as a direct result, an increase in leads month over month, especially during the first 12 months of our partnership. Through aggressive SEO tactics and out-of-the-box targeting strategies, our partners' expectations are continuously far surpassed.
Client:
Web Design Clients
|
Campaign:
Website
Web Design Case Study Before & After
Our clients were seeking a website with a Design For Conversion. We not only gave them a better-looking and user and mobile friendly,  but also a website built to convert.  We track the increase in conversions fairly soon after launch.
Client:
Digital Advertising Client
|
Campaign:
YouTube
Extremely profitable YouTube Ad campaign will make you reassess your TV Ad spend
Client:
Social Media Client
|
Campaign:
Facebook
Facebook campaign proves to be wildly successful for mass tort cases
Our client was seeking mass tort leads and had yet to test out a Facebook campaign. Within a six-week period, this law firm found a tremendous amount of success. This campaign generated an impressive amount of leads ─ and cases ─ at an unbelievable rate, and it is still going strong!