After designing thousands of websites exclusively for lawyers, we've come across perennial questions when it comes to updating or launching a law firm website. If you have an old site and you're looking for an upgrade, or you want to start new, we know you have questions and thankfully, we have answers. If you find yourself needing even more information you can follow our free website for lawyers guide which will walk you through the whole process.
How long is it going to take?
If the design is unique and requires a custom build, we have a turnaround time of 90 days.
If the design parameters fall within one of our existing, proprietary themes, we have a timer of 60 days.
Custom design example –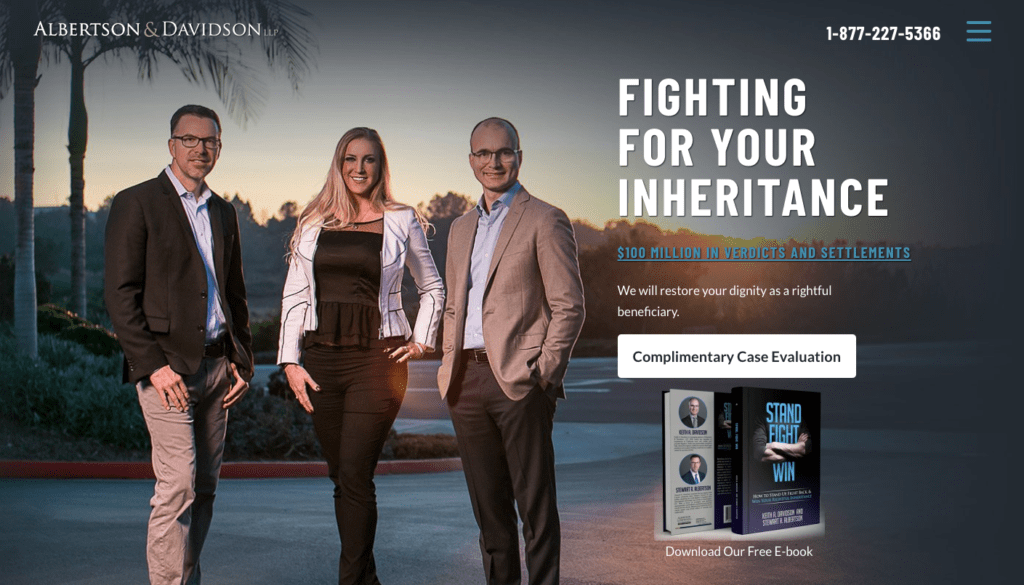 Theme design example –

Client responsiveness is a huge factor in delivering a design project on time. With prompt responses to design requests and issues, timelines are almost always adhered to.
We reach out to our clients weekly to provide status updates and request or address items that may be holding us back. Since we have an expanding list of legal websites to deliver, if client responses to design team requests aren't timely, the timelines for that project will necessarily increase due to the nature of our commitments throughout the pipeline.
If the design is not approved and sent to code by day 45, we are not going to meet a 90-day timeline. Custom sites require 120 hours of coding, no exceptions. We then have to build and run quality assurance on the site.
Will an upgrade affect site rankings in search engines?
No, we redirect any traffic from your old site using 301 redirects so everything is pointed to the new location. There can be some shifts for up to the first 90 days after a site launches while Google's algorithm works thought it. A Google rep has stated it can last from a few hours up to 90 days. It is related to their algorithms, so there is no control over when the redirects will cease.
What are ranking factors again?
Google, the world's leading search engine, is thought to use around 200 ranking factors, or "signals," to determine how well a site ranks for a given web search query. The company asserts that SEO is about making small modifications and incremental improvements to your website that impact your site's user experience and performance in organic search engine results.
It's critical to note how Google interrelates user experience and search results. Many of Google's most significant changes to the way it measures law firm website rankings focus on the user, or the person performing the web search. Google algorithms (the fancy formulas it uses to determine website rankings) essentially measure website quality, as explained in an oft-cited company memo. Learn more about Law Firm SEO.
What if my website was penalized by Google in the past? Can you fix it?
Yes, the amount of work involved varies on what the penalty is for. If it is links-related, we need to audit your backlink profile, take actions to remove the toxic links in question, and then send the site for reconsideration by Google. If it's content-related, we may need to rewrite the content in question or remove it.
What are common reasons for delays in launching a new site?
Communication. Communication. Communication.
Whether it's a holdup in design approvals or a delay in receiving content, disruptions to the design process can and will happen. Most timelines can be adhered to, regardless of the problems, but only with consistent and proper communication between the design team and client.
In order to ensure everyone receives the same treatment, if client communications enters into a lull, our agreements allow us to push a project to the end of the line. Its rare that this happens these days, but it's important to understand our methodology and how imperative client communication is to the design process.
What if I don't like the design you give me at the end?
The client will be very familiar with the design and should not be surprised with a design they don't like at the end of the project. We give our clients several opportunities to approve the homepage design after revisions. Then the client reviews interior page templates and has two rounds of revisions to make any changes to those layouts before approval.
Do I need to blog, or blog more?
Whether you choose to write blog posts or hand it over to us, regularly updated content is one of the most valuable assets to any website – but at Consultwebs, we stress quality over quantity.
We view a law firm's blog as the community piece. It's used to update your community about events and news.
Did you do a fundraiser? Are you helping a kids organization out? Did one of your attorneys win a big award or speak at a local school? These are perfect for the blog.
Keyword-centric posts that relate to your practice area, like "what not to say to an insurance adjuster," should be worked into the practice-specific areas of your website. This will support that content and help it rank by being more in-depth.
I have several domains I purchased and have the same content on all of them. Is this bad?
Yes. It is duplicate content and you're probably seeing one site show up for it and the rest are filtered out. Having one authority domain is best practice. It is also easier to put resources to help one site rank effectively than spreading it out so each gets just a little, and no overall improvement gets made.
Other Common Misconceptions & Assumptions
Coding is quick. – A website is not images, or videos or colors. Itis code. Every law firm website we build has to live up to our standards, so we run a 300+ point diagnostic checklist on every single law firm website design we publish. The majority of the entire project timeline is dedicated to the high-quality of our coding process.
We read minds. – We pride ourselves on our client communication skills. However, we don't read minds. We didn't know that Jack left the firm and you hired Emily two weeks ago. Maybe you don't like the photo on the homepage, and you secretly hate it? That's fine. This is your site. Just tell us.

Special thanks to our design wizards Jennifer, Grant, and Todd for giving us these expertly crafted answers.
If you're curious about the difference Consultwebs can make for your law firm's website, get in touch with our team.
If you'd like more info on legal marketing, sign up for the Consultwebs newsletter, follow us on social media, and subscribe to the LAWsome Podcast.
DOWNLOAD THE PDF OF THIS POST HERE