The Power of Organic Strategies
Should your firm focus on short-term or long-term marketing return on investment (ROI)? While the fruits behind short-term investments like Digital Advertising are obvious, we'll show you the power behind long-term organic strategies.
Your website is your firm's digital home. Essentially, all your legal digital assets should point somewhere to your website, e.g., a contact form page, a blog post, a consultation form, etc. But how important are organic versus paid efforts? Should your firm focus on one?
: It is proven that the most successful law firms understand the importance of diversifying their marketing investments, and realize that putting all their eggs in one basket is not a wise strategy for long-term growth and stability. Instead, firms are focusing on boosting short-term and long-term sales activation with the help of many digital efforts like Agile Digital Advertising and SEO.
While the ROI seems more evident with short-term sales activation, how do organic strategies, like SEO, boost a firm's long-term sales? Before diving into the logistics behind this, let's take a look at some facts:
If you're a law firm looking for practical ways to improve your online presence, attract more clients, and gain a competitive edge, keep reading to discover the ins and outs of organic marketing strategies, their pros and cons, and actionable steps to get started.
Legal Organic Strategies: Definition and Benefits
Organic digital marketing is like planting a garden, where you carefully sow your seeds of content and value-based tactics, nurture them with time and effort, and eventually reap a bountiful harvest of traffic, leads, and brand awareness without relying on sponsored or paid advertising. As you invest in paid ads, you should also work on building your loyalty naturally and over time and that is exactly what organic stands for.
Organic digital assets include everything you don't pay for directly, such as:
And what are the main differences between organic and paid marketing strategies?
Why You Should Use Organic Marketing Right Now
Once you start investing in more than one digital asset, you may be tempted to pinpoint and attribute all sales to one asset. But who gets the credit? The answer is that all your marketing channels contribute to your firm's success.
Today, the most successful firms think of marketing as an ecosystem (which is the right thing to do!). When marketing is done right, it becomes a thriving ecosystem, where every element, from the smallest to the largest, plays a critical role in maintaining the delicate balance of growth and sustainability.
If you're looking to do any of the following, chances are you can profit off organic assets (on top of your paid assets):
Establish credibility and trust with potential clients

Boost a more sustainable and cost-effective long-term growth strategy

Improve your firm's rankings and make it easier for potential clients to find you

Target specific audiences and offer a more personalized marketing experience

Provide valuable content and relevant news, updates, successful verdicts etc. that positions yourself as a thought leader in the industry
The Practical Steps to Boost Your Firm's Sustainable Growth
While there are bountiful strategies behind organic strategies like SEO, social media, and blogging, here are some common denominators you can incorporate into a long-term organic growth plan:
Conduct keyword research and optimize your website content:

By identifying the keywords your potential clients are searching for, you can optimize your website content to improve your search engine ranking and attract more traffic.

Leverage the power of social media:

Use social media to build relationships with potential clients, share valuable content, and increase brand awareness. Be consistent with your posting and engage with your audience regularly.

Invest in email marketing:

By building an email list of potential and existing clients, you can create targeted and personalized email campaigns that provide value and drive engagement.

Create a content calendar for your blog:

By planning your content ahead of time, you can ensure that you consistently publish high-quality, valuable content that engages and informs your audience.

Create high-quality, value-driven content:

From blog posts to videos, create content that addresses the pain points and questions of your potential clients. By providing value through your content, you're letting your content speak for itself.

Build relationships with other websites and businesses:

You don't have to do it all alone. Connect with other businesses in your industry, guest post on other blogs, and participate in online forums. Building relationships with other businesses – that's what it's all about!

Encourage user-generated content and reviews:

Reviews matter a lot. Ask satisfied clients to leave reviews on your website or on platforms like Google My Business and Avvo, and encourage them to share their experiences on social media.
Takeaway: Practice Delayed Gratification
In today's society, everybody wants instant gratification, but do you know the value behind late gratification? Science shows us that those who practice delayed gratification and learn to delay the impulse of immediate results and pleasure get more significant long-term benefits and growth, which can also be applied to your marketing!
Just think back to the turtle and the hare: success often lies in taking a slow and steady approach rather than rushing into things quickly and carelessly.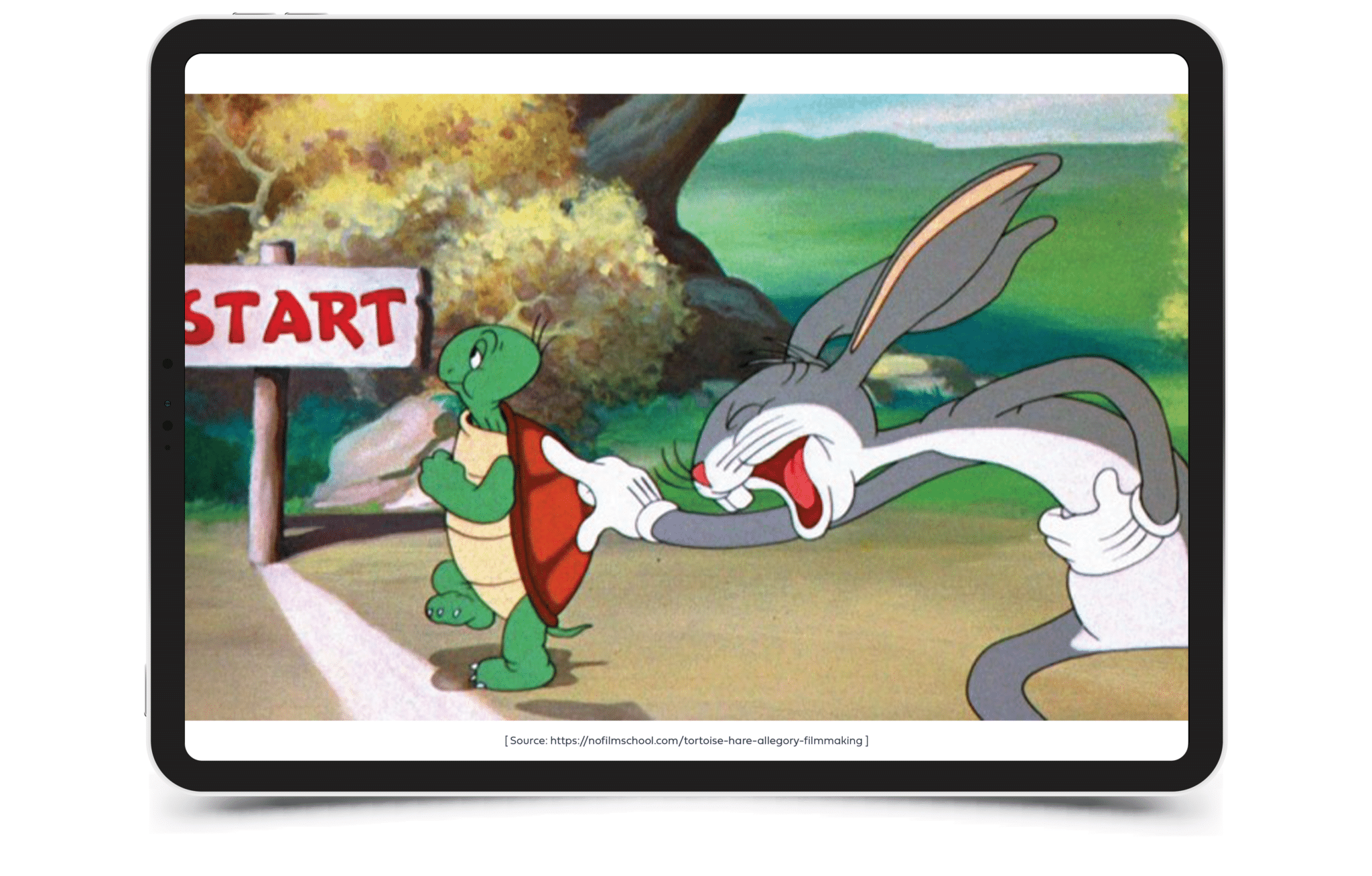 Practicing delayed gratification with organic assets is key for law firms looking to establish a credible, sustainable, and long-term online presence. With help, you can win the short and long-term race. Let's have a chat.