Demystifying PPC: Breaking Through Pay-Per-Click Misconceptions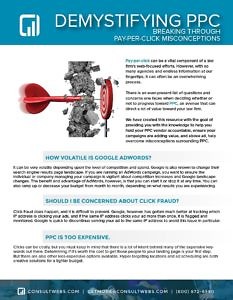 Pay-per-click can be a vital component of a law firm's web-focused efforts. However, there is an ever-present list of questions and concerns one faces when deciding whether or not to move forward with PPC. Our search experts have created this resource to provide you with the knowledge to help you hold your PPC vendor accountable, ensure your campaigns are adding value, and above all, help overcome misconceptions surrounding PPC.
This informative guide answers the following questions:
What costs should I expect with PPC?
What does success look like when running a paid advertising campaign?
What is "click fraud" and is it something I should monitor?
How do agencies define "effective PPC"?
To download after completing the form, please click the download or save icon in the window where the resource appears.
See our resource page for additional free, helpful guides and information. Visit our Webinar page for free Webinar's on PPC.